2-Channel Lighting Controller
Switch & Dim
Features
Features
• IP66 Tuff ABS enclosure
• Compatible with all lighting types
• Output 1 & 2 Switched or Dimmable
• Rated 1Kw per output including smooth on/off option
• Or fully user-dimmable at 500W per output
• Earth bonding metal chassis
• Operates wirelessly (requires only a mains supply)
• Rugged, separately fused outputs
• Fast, Lid-On programming
Description
The Lighting Control Module provides 2 wirelessly controllable outputs each rated at 1Kw and suitable for all load types. It provides flexible control for any lighting circuit or pump and is quickly configurable as a simple switch, group (zone) or scene controller, with 29 memories and a master on/off.
Outputs 1 & 2 can be programmed as a switched or dimmable. The dimming mode provides a soft-on, soft-off feature with filament pre-heating, which can greatly increase lamp life. User-dimming is available on output 1 and can be enabled on output 2 if the load is limited to 500W per channel.
The separately fused outputs are fully protected against over current and over temperature.
The built-in signal-strength indicator, zero-volt mains switching and power-on surge protection all enhance reliability. Lid-on programming speeds commissioning and reduces the risk of water ingress.
Control via a Light Symphony Key Fob, Remote Control, Wireless Wall Switch, Smart Phone App (via an I-Port), Touchscreen, or Alexa (Via an i_Port). You can mix and match which controls you use. 
Part No. LS30500LCM
Accessories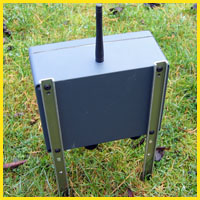 Ground Spike Kit - galvanised steel spikes can be fitted to the Lighting Control Module to provide a convenient ground mounting method. Click here for details.